The Virgin Mary's House
This was officially declared as a shrine of the Roman Catholic Church in 1896 and since then it has become a popular place of pilgrimage. Pope PAUL VI visited the shrine in 1967, Pope BENEDICT XVI in 2006 It is known with certainty that the Virgin Mary went to Ephesus and lived there for some time. Whether or not she died in Ephesus was not known until Anne Catherine Emmerich's vision.
Start to walk in History
The odean had a double function, firstly for artifical activities such as concers, poets to read their poems and for philosophers. At the same time it was used as a Boluleterion (Parliament)
Memmius Monument was a memorial dedicated to Memmius son of Caius and grandson of Sulla for the honour of Sulla conquering Ephesus The Domition Temple is believed to be the first temple of the cult of emperors in Ephesus. Parts of a huge statue was excavated and thought to be that of the Emperor Domition. Possible to see the statue in the museum. The Hadrian Temple was a Corinthian style temple consisting of a cult room and porch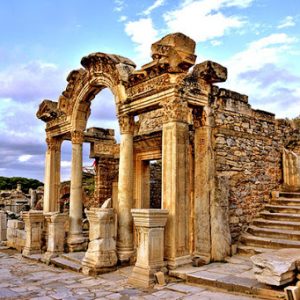 The Curetes Streets
The Curetes Street lies between the Hercules Gate and the Celsus Library. Strolling along the streets of Ephesus today, imagining old carts trundling throught these same streets centuries ago, you feel a sense of timelessness.
The Marble Road
The ancient city of Ephesus is an ideal place to step back in time and soak up the atmosphere of life in Hellesictic and Roman times, when it was rivaled only by Alexandria as a mighty commercial center.
Public toilets (Latrina), God of Travelers (Hermes) and one of the first advertisements.
The sides of the main streets covered with mosaics for the pedestrians.
The Celsus Library was the third largest library in the ancient world.
The theatre is one of the most impressive buildings in Ephesus. It was originally a Hellenistic theatre which was later restored in the Roman style. The seating capacity was 24.000 people Sting, Tina Turner, Elton John, Diana Ross, Ray Charles have all held concerts here Once the biggest theater of ancient world.